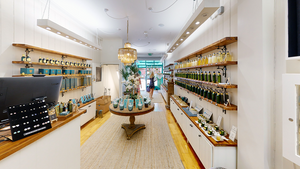 Saltworks - London candle shop
The Saltworks Company - Islington
Discover the online catalogue of handcrafted natural soy wax candles or come to our Islington perfumery near London Angel to find uniquely yours home fragrance.
Visit our Candle shop in London - Islington
Powered by HuraTips.Com
The easiest way to reach us
Natural blend of perfume and soy wax - Perfect candle -
At Saltworks - Islington, we know everyone is different especially in London That's why we created 12 differents scents of candles and reeds to help you find what you love.
1. Same perfumes you use on your body - Safer and tested
2. Saltworks candles are handmade in Ramsgate, Kent
- UK
3. we do not mix or trick - They are made with 100%
soy
4. No paraffin or beeswax  - which means no smoke, soot, wicks or carbon
emissions

We are passionate about the environment, so we have chosen to use soy wax as it is biodegradable and burns cleaner than other types of wax. they do not contain any harmful chemicals such as paraffin or petrochemicals. All of our fragrances are made in the UK and are free from animal by-products or animal testing. Our candles are made in the UK, so you can be sure you're getting the best quality products possible.
We believe that everyone deserves the chance to experience the magic of natural soy wax candles, which is why we use high quality fragrance sourced from Grasse - France. Our candles have long-lasting burn times and come in a variety of scents to suit any mood you may be in.

they're evocative and unforgettable, and they make you feel like the hero of your own story. They can also help you stand out from the crowd and give people a great first impression of who you are.
And you can check all of our home fragrance now in our candle Store in London - Islington

CRUELTY-FREE, TOXIN-FREE & SUSTAINABLE candles in the heart of Islington
Hand crafted scented candles in north london
Our handcrafted candles are not only gorgeous to look at, but also beautifully fragrant, the oils we use in our candles are not your regular blends, they're one-of-a-kind. From guaiac wood to vetiver, patchouli and oak moss there's a unique scent with your name blended in it. Perfectly scented to make any of your day better.
Candles made by hand in UK
Those candles are not mass-produced by factories and machines, they are hand-poured in small batches by an expert team of British candle pourers in the traditional way
You get mindfully crafted fragrances designed by British perfumers using the same perfume ingredients used in actual body fragrances.
We guarantee that our candles contain no mass-produced oils or additives. 
They are made with the finest quality eco soy, vegan-friendly wax which are infused with our unique blend of premium
parfum fragrances.
By making everything in small quantities, we can ensure that all aspects are of the highest standards.
browse our Fragrance Families
Discover Saltworks
Saltworks Discovery set - The best way to enjoy our scent and give them a second thought, You can pick it up from our Islington shop or get it delivered to your home
Discovery Set
Refil and save
We use only one bottle style for all of our perfumes so you can take your empty bottle to our london perfumery and have it refilled with other or same fragrance you make a choice - Every time you refill not only you will help with waste problem but this will save you £20 on your purchase
Refil and save