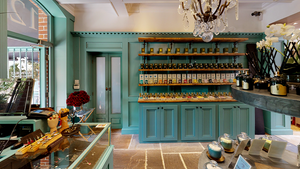 Long Lasting Perfumes
Hand Crafted in Ramsgate
The Saltworks Company - Ramsgate
Discover the online catalogue of handcrafted perfumes or come to our Perfumery in Ramsgate Town Centre to find uniquely your saltworks fragrance.
Buy online and pick up in our Ramsgate Perfume Shop
The Saltworks Company - Islington
Address: The Old Station, 12 Charlotte Ct, Ramsgate CT11 8HE
Opening Hours:
Monday : 10am - 5.30pm
Tuesday : 10am - 5.30pm
Wednesday : 10am - 5.30pm
Thursday : 10am - 5.30pm
Friday : 10am - 5.30pm
Saturday : 10am - 5.30pm
Sunday : 10am - 5.30pm
The easiest way to reach us
Our Perfume Shop is right in the town centre of Ramsgate in Beautiful Charlotte Court
Closes bus stop is Harbour (Stop D) or Harbour (Stop E)
So you can reach us by bus lines Buses 9X 45 48A 933 946 Loop
Nearest Car Parks are :
AND
Cavendish St, Ramsgate CT11 9DZ
Free parking offer : We will refund up to 2hours of your parking when shopping with us
Just bring proof of payment and we will reimburse your parking
CRUELTY-FREE, TOXIN-FREE & SUSTAINABLE perfumes in the heart of thanet island
Discover Saltworks
Saltworks Discovery set - The best way to enjoy our scent and give them a second thought, You can pick it up from our Ramsgate perfume shop or get it delivered to your home
Discovery Set
Refil and save
We use only one bottle style for all of our perfumes so you can take your empty bottle to our kent perfumery and have it refilled with other or same fragrance you make a choice - Every time you refill not only you will help with waste problem but this will save you £20 on your purchase
Refil and save
31 original fragrances crafted by saltworks available in Ramsgate
At Saltworks - Ramsgate, we know everyone is different especially in thanet island That's why we created 31 different scents to help you find what you love.
Now you can smell as good as you feel.

At Saltworks, we're all about making perfumes that last. And when it comes to perfumes, we believe that the scent you wear should be like a movie—evoking emotions, building tension or provoking actions. It should give you the opportunity to stand out and make an impression on the world around you.


they're evocative and unforgettable, and they make you feel like the hero of your own story. They can also help you stand out from the crowd and give people a great first impression of who you are.

What kind of scent do you want? If you're looking for something that will remind people of their favorite beach or childhood memory, check out our Fresh and Aquatic Family. Or if you're looking for something more subtle that makes people feel like they've just been kissed by the sun, try our Fruity fragrances. Whatever your mood (or moods) may be, we have something for everyone here at Saltworks in Kent!
We are all about being long lasting
We go above and beyond to ensure our perfumes provide lasting longevity, so you don't have to worry about your fragrance fading away.
This is why we broke the "Standard Concentration" rules to give you a fragrance that stays with you wherever you go!