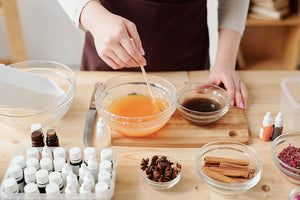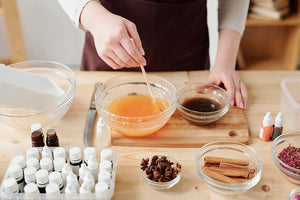 Made with Passion in Britain
Perfumery born with passion in Britain
Quietly and meticulously composing art of fragrance, a perfect balance between memories and art. Our elegance is borne from experience.
Made in Britain, using the finest quality fragrance materials from Grasse in France - Considered the world's capital of perfume.
We make a bottle of perfume fresh, by hand, one bottle at a time, as customers order it to ensure that we have minimum waste.
Every day we carefully pour, press, mould, squeeze, crimp, cap, seal, polish, mix, whip, wick, scrape and wrap everything by hand, in small batches in our workshop in Kent.
Proud to be british
Made by hand, locally in Kent, England
We take pride in working locally, and in making sure every drop that goes into your perfume has been sourced sustainably.
Passion and Feelings
The Art Of fragrance
Fragrance has the power to transform your mood, connect you to a time or place and focus your spirits on a positive future.
With that in mind, we constantly working on creating new, better more unique scents so when you are looking for something with your name written on it, you can find it at Saltworks.
our perfumers blend alluring creations filled with emotion, character and personality, using a high concentration of natural ingredients fused with an incredible pallet of the highest quality perfume oils.
History of fragrance moving us forward
Whilst maintaining a deep respect for the history of perfumery we are forward-thinking in our fragrance creation and are often inspired by new experiences that relate to the present day.
Capturing memories by carefully painting an invisible picture with our mix of fragrance oils, finding the perfect balance of perfumery materials. Often we look at our craft in a way of composing a piece of music, sharing the same language we bring together 'top notes', 'heart notes' and 'base notes' to complete our symphonies.
Long Lasting perfumes Mission
The Saltworks Company is dedicated to go above & beyond in giving the finest long-lasting fragrances for those who want an elevated sense of aroma to accompany their presence.
Get the job done right the first spray with The Saltworks Company.
We understand how frustrating it can be for perfume to wear off halfway through your evening. There isn't always time to spray more - if you can even pack your perfume - and who wants to deal with that? 
Our bottles use 25% parfum compared to the industry standard of 15% so you and your company enjoy long-lasting scents!
We are there for you from start to finish. 
How do we make choosing perfumes easy?
We have divided all of our creations into simplified fragrance families so that everyone can look only at perfumes they like.
The choices are spread between 4 families
- Wood
fragrances feature full, rich scents with sugary, piquant notes such as powdery, vanilla-like orchid, noble and lush vanilla, spicy, inviting cinnamon and aromatic and spicy cardamom.

These fragrances are highly sensual and exotic.
Most perfumers consider this to be the most luxurious fragrance family.
- Fresh

This scent family includes some of the world's most refreshing and vibrant fragrances.

They are defined by bright, citrus-based, oceanic, herbal, green notes. that are often bolstered by lingering woodsy elements.
More sophisticated scents are usually blended with spicy notes, and a mélange of tart, aromatic fragrances with fruity and zesty accents are also prevalent within this scent family.

They can include piquant, pleasing bergamot, earthy, savoury and nutty sage and uplifting grapefruit.
- Floral
With aromas reminiscent of freshly cut flowers, some of the most popular fragrances in the world belong in this sector. 
They are considered feminine, and contain captivating notes like haunting jasmine, bright lily and musky romantic rose.
These fragrances can be surprisingly complicated and delicate at the same time, depending on the scent's intensity and the other notes that are added to the blend.
a family that lies between the fresh and floral scent. Essentially, it is comprised of sweet aromas containing notes of velvety peach, dense, slightly sugary pear and crisp apple.
Impact of perfumes on our lifes
UPLIFTING FRAGRANCES WITH the best ingredients
We trust in the positive influence that perfumes can have on us. This is exactly why the ingredients we choose are so important.
Starting with an outstanding concentration of parfum oil in every perfume bottle, we pride ourselves in breaking the limiting standards of the perfumery industry to do this differently, our perfumes are long lasting with at least 25% concentration in them, beating the industry standard by adding 20% more than most brands, e love the depth and character that natural oils bring to a fragrance, and the uplifting, invigorating and energising properties they can offer.
We have always sourced the finest raw materials for our compositions. All of our absolutes and essential oils are sustainably sourced from our suppliers who strictly monitor the grade of each crop to ensure their top tier quality.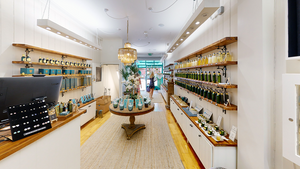 London Perfumery
The Saltworks Company - Islington
Our London perfume shop, visit us to get expert advice and get matched with your unique fragrance from Saltworks
Directions
more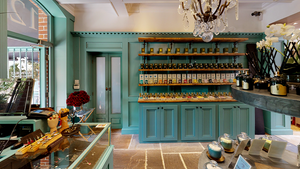 Ramsgate Perfumery
The Saltworks Company
Our Ramsgate perfume shop, visit us to get expert advice and get matched with your unique fragrance from Saltworks
Directions
more